Architectural updates for your request will be sent via email should the ARC Committee require additional information. The ARC Committee has between 30 and 60 days per your community's governing documents to make their decision. You will be notified via email of the results of your request. If the 30 to 60 day time frame has elapsed without a decision, please contact us at support@kuester.com.
If you have registered an account with us on kuester.com, you can also check the status of your request on your online portal. To see how to register, please visit "How do I register on kuester.com?"
Please note, the below pictures may look different from your website, but the navigation to the pages is the same.
After you login to kuester.com, find "My Profile" on the top navigation bar and hover your mouse over it. In the drop-down navigation, please click on "My ARC Requests"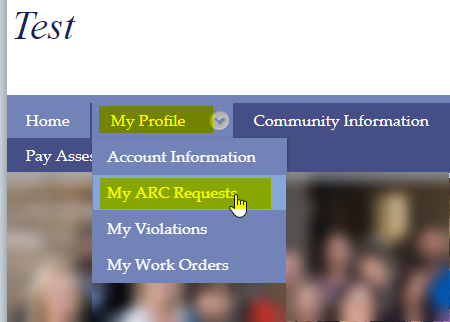 On this page, you will be able to see the status of your ARC request and be able to add pictures/documents as attachments or add comments to your ARC request.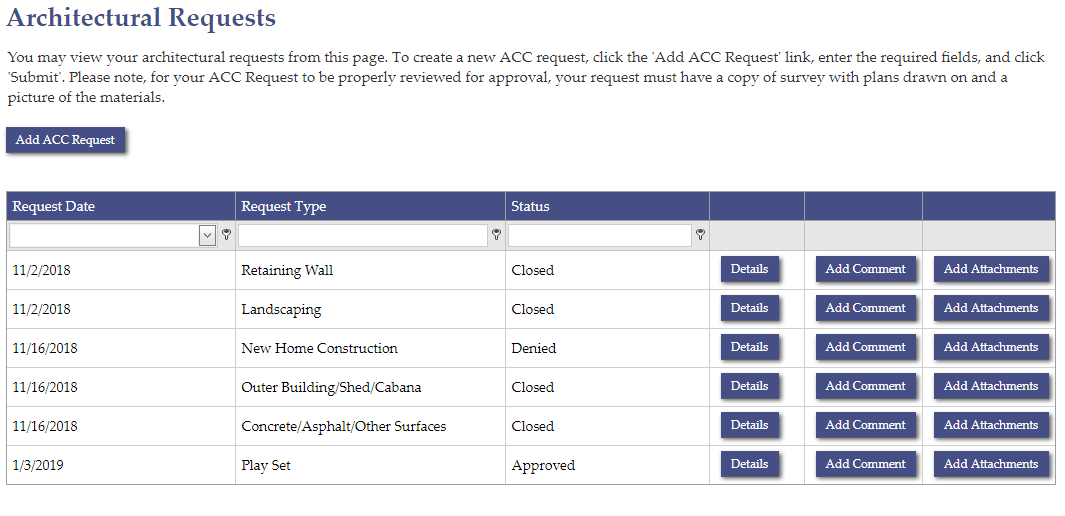 To understand where your ARC request is in the review process, please see below the meaning of the various statuses that are used.
| | |
| --- | --- |
| Status | Description |
| Approved | Request has been approved |
| Approved with Conditions | Request has been approved, but with conditions |
| Closed | Legacy option of closed requests |
| Denied | Request has been denied |
| Open | Request is under review. No decision made. |
| Pending -  | Request is missing information. You need to provide more information for the committee to approve or deny. |
As always, if you do not see what your are looking for or would like more information regarding the process or status for your ARC request, please contact us at support@kuester.com.